Summer Trees
About This Painting: This is a painting done with painters painting knifes. Here are what a few of them look like.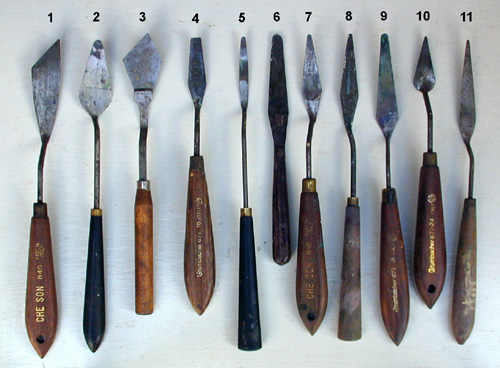 Achieving a thick texture that is rich in color, blending, building surface texture, edging, detailing and scraping off layers of paint are the main goals of palette knife painting.
Vincent van Gogh used his palette knife painting to capture and convey raw emotion. His immediate sweeps of swirling concentrated colors applied with thickened paints continue to capture the imagination of museum-goers worldwide. Palette knife painting works best with impasto painting, or with thickened paint. I like to work wet into wet when I use a palette knife and do a lot of blending right on the painting.




Summer Trees
8x10 oil painting
oil painting on canvas mounted on a museum qulaity panel ready to be framed
Media: oil painting
Size: 10 in X 8 in (25.4 cm X 20.3 cm)
Price: $200 USD
THIS PAINTING IS AVAILABLE FROM MY WEBSITE AT CONTEMPORARY FINE ART INTERNATIONAL CLICK BELOW TO VISIT THE SITE

"post your opinion in the comments" Or,
send me an email
Thank You:


All images are
© 2004-2012 Delilah Smith, Art by Delilah
Pin It